This 4×2 Grow Tent Helps You Grow Like A Pro, No Experience Necessary.
If you've been looking for the perfect 4×2 grow tent system, then you have come to the right place! The ATS-42 by Green Goddess Supply will have you up and running in no time!
From Sprout to Harvest in as little as 60 days.
If you've grown before and know what you're doing, you'll be off to the races with this complete system. But if you've never grown before, fear not!
Our easy-to-use 4×2 grow tent system comes complete with Concierge Service that's designed for beginners! We don't believe medicine should be just for those who can afford it – we're on a mission to empower everyone and anyone to be able to grow their own at home quickly, easily, and inexpensively.
95% of our customers have never grown before, and they're getting amazing results.
Impressive Yields with Minimal Maintenance in a 4×2 Grow Tent Footprint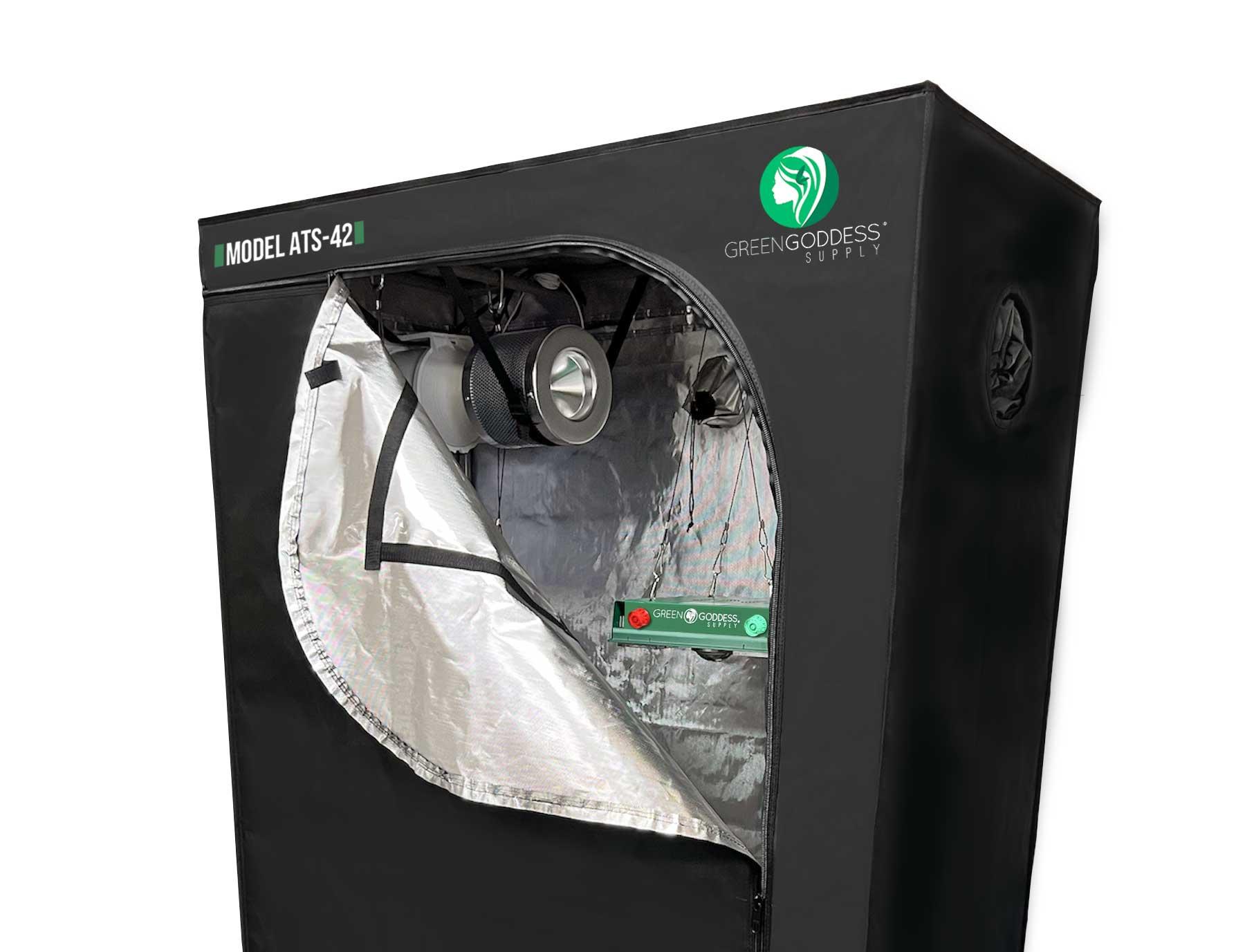 Go from sprout to harvest in as little as 60 days and consistently grow a quarter pound or more of yield per plant, pulling between a half pound and a full pound each cycle! The system needs only 2 minutes of attention a day for incredible results.
There are several problems with old-school grow tents that sow confusion and fear: they're complicated, large, and can be overwhelming to figure out. This is why we've created a tent "The Green Goddess Supply way!" The ATS-42 4×2 grow tent is an easy-to-use, low-maintenance growing and nurturing system that gives you impressive results in a quick and consistent time frame and includes all of the components (fans, lights, tent, and more), so you don't have to figure anything out on your own.
And if you're ever confused or concerned, our Concierge Service is designed to hand-hold you through the process!
4×2 Grow Tent and More! A Complete Solution
No More Growing Pains
Growing on your own can be a pain. Other systems are overly complicated, expensive, energy-consuming, unsightly, and time-consuming. In the end, you pour in countless hours, dollars, sweat, and tears only to yield less than desirable results – if any at all. Our system is different. It's specifically designed to give you consistently impressive results every cycle with minimal maintenance. In fact, it only requires 2 minutes of care a day to yield 3-6 oz of dried flower, PER PLANT, in as little as 60 days! (2 plants recommended at a time).
With our system, you will be successful – our celebrated Concierge Service will walk you through our proprietary "High Yield, Easy Grow Autoflower Protocol."
You know what else is proprietary? Our "Unicorn Series" LED light, combined with our unique protocol, is designed for growing in confined spaces and tuned to create the perfect environment for your plant. You will get no mold, no pests, and no overwatering or under-watering if you follow the instructions.
Rugged Construction
Everything about this tent says "Quality!"
The rugged zippers, thick 2000D Oxford weave canvas (vs. standard 600D on most common tents), triple light-blocking layers, and sturdy 22mm poles all ensure a quality tent designed to last.
Easy Setup
Getting started with our tent kit is easy. We include illustrated instructions for setting up the tent itself and step-by-step instructions for installing the fans and lights.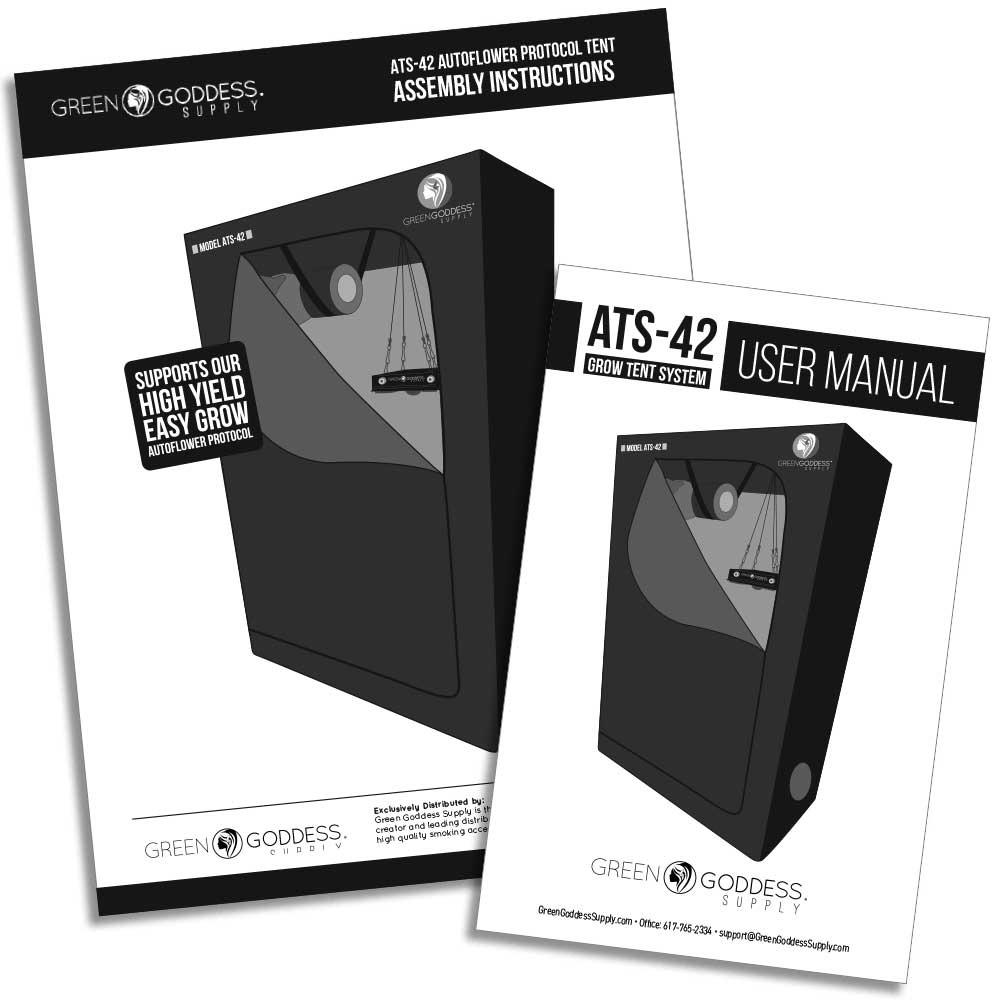 The whole process takes about 30 minutes, and no tools required. Then it's as easy as plugging in the power, planting your seeds, and adding water.
But remember – if you have any problems with setting up the system, we have detailed FAQs, helpful videos, and our Concierge Support Team will happily jump on a call and walk you through the process.
Autoflowering Strain Optimization
The ATS-42 home grow system is optimized to cultivate auto-flowering strains and consistently produce eye-popping yields every cycle, with minimal fuss by following our "High Yield + Easy Grow Autoflower Protocol."
Not sure what Autoflowers are? No worries – we're here to help. We can point you in the right direction to find appropriate, high-quality seeds and more. That's what we're here for!
Natural Process and Protection
The ATS-42 4×2 grow tent, combined with our "High Yield + Easy Grow Autoflower Protocol," ensures your plant grows in a 100% natural environment with no pesticides and no herbicides. You'll know exactly what's going in and on your plant at all times!
The 13 Spectrum, high PAR, low-heat proprietary LED light has the unique ability to inhibit molds and deter pests naturally. These features, combined with our proprietary design and time-tested grow protocol, ensure a strong immune system and a pathogen-free plant without using any pesticides, herbicides or unwanted additives.
What's Better Than a Unicorn LED?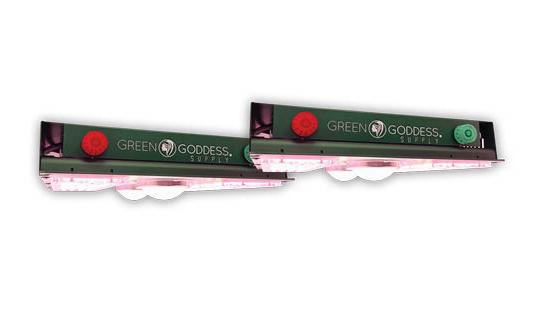 TWO Unicorn Series LED Lights, of course! That's right, this compete kit comes with TWO of our Unicorn LED Lights so you have full, independent control over EACH plant, so you can "tweak" and "dial-in" the lighting for each plant in the system, individually.
As Billy Mays would have said: "But wait, there's more!"
Notice our very unique barrel-style guitar knobs on our Unicorn grow light? We're sure you've never seen that on a grow light before – that's a Green Goddess Supply original. Well, guess what — our design esthetic extends to the tent too!
This tent looks SHARP with green accent stitching, and high quality embroidered logo!
Everything You Need to Get Growing
The ATS-42 4×2 Grow Tent Kit comes complete with all of the hardware you will need to get up and running — just add seed, soil and water! (and our Concierge Support Team can even give advice on recommended seeds, soil and water!)
Included Components:
One FULL YEAR of Upgraded Concierge Support Services

ATS-42 4×2 Grow Tent Structure (4'w x 2'd x 6'h)

TWO Unicorn Series Grow Lights

High-power in-line exhaust fan w/ LCD Controller

Carbon Scrubber to Filter Out Odor

8 Rope/Winch Connectors (4 per light) for Full 4-way Control

TWO Five Gallon Cloth Grow Pots

TWO 17″ plastic plant saucers (for under the grow pots)

Light Timer Device

Surge Suppressor / Power Strip

UV-400 Protective Eye Glasses

TWO Internal Atmospheric Fans

A padlock to stay compliant with State Regulations